Eastern promise
By Ian Fraser in Doha (Originally published on Qfinance blog Oct 1st 2009)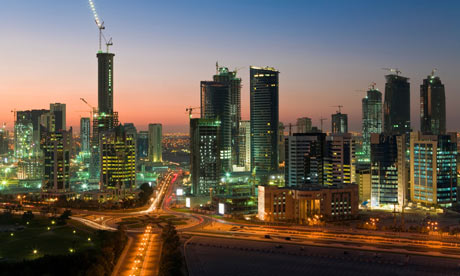 Springing out of the desert: Doha's West Bay financial district barely existed in 2001
A new era has dawned for financial services, in which Gulf financial centers are well placed to demonstrate their virtues and fully compete with Western centres.
These are the views of Abdulrahman Ahmed Al-Shaibi, non-executive director of the Qatar Financial Center Authority, who I heard speak on my recent visit to Doha, the capital of Qatar.
Addressing one of the Qfinance launch conferences in Doha last week ("FT Rethinking the Future of Finance" conference), Mr Al-Shaibi said it is time we had a more constructive debate about the financial crisis.
Al-Shaibi said he believes that, post-crisis, the Gulf region has the opportunity to emerge as a "financial centre of choice for those looking for stability," partly because the region has been less exposed to the financial tsunami that has so weakened other financial centers.
He added that the financial sector across the Gulf Cooperation Council states has been transformed beyond recognition in past few years, moving from "a few local banks recycling petrodollars" to a much more sophisticated matrix of local, regional, and international players.
He expressed confidence that financial centers in the Gulf have the potential in terms of pools of liquidity, regulation, and stability to match rivals elsewhere in the world. "The building blocks are already there," said Al-Shaibi.
Mr Al-Shaibi said Gulf-based banks and other financial institutions are today finding it much easier to attract talent and that the Qatar Finance and Business Academy aims to become a centre of excellence providing the most recognized financial qualifications in the region.
He added that he believes Islamic finance will be one of the pillars of future growth, since it is a "viable and attractive alternative [to Western-style finance] given drying up of conventional leverage." Al-Shaibi also said Qatar's insurance market is expected to double in size over the next two years.
Speaking at the same event Michael Ong, professor of finance at the Stuart School of Business, Illinois Institute of Technology said: "In the long run, banking should serve the common good—but unfortunately this is not possible in the Anglo-Saxon model I've grown up with… To link deposit-taking and lending with high-risk investment banking is a defective model. Islamic banking is more likely to be able to serve the common good and to be socially responsible within an ethical framework."
Al-Shaibi conceded that the quality of regulation in Qatar and other Gulf financial centers will be critical to their future success, pointing out that regulators across the region are determined to clamp down on insider dealing. He also said: "Support services including lawyers, accountants, and investment bankers are improving all the time, with Western professional firms now sending some of their best practitioners to the region."
Ong said that Qatar has the opportunity to become the "Singapore of the Middle East", and perhaps even a global centre for good corporate governance, sound risk management and ethical banking. "Qatar is the perfect place, through the QFC, to establish an institute that promotes these.
"The market needs transparency like the world needs sunlight. The abundance of sunlight is the best disinfectant."
One advantage enjoyed by economies in the Middle East, said Mr Al-Shaibi, is that Gulf states have been able to support their economies without the need to go into massive deficits, thanks to the cushion afforded by oil revenues and liquidity from project finance.
However, he conceded that it is impossible for any country in the world to totally immunize itself from a recession and said it is time everyone—bankers, borrowers, policymakers, regulators, etc.—questioned the "easy assumptions" formerly made about how business was done.
"Borrowing money was too easy," said Al-Shaibi who is also chairman of the insurance group Qatarlyst and head of project finance at Qatar Petroleum.
Short URL: https://www.ianfraser.org/?p=943
Posted by
Ian Fraser
on Oct 8 2009. Filed under
Blog
. You can follow any responses to this entry through the
RSS 2.0
. You can leave a response or trackback to this entry