Obama grasps nettle of "too big to fail" banks … at last
January 24th, 2010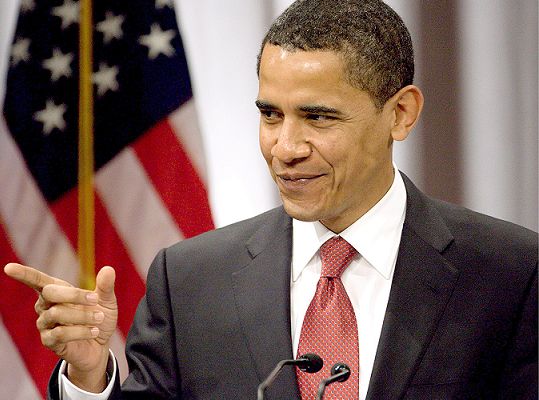 Believe it or not, I actually feel some sympathy for politicians where sorting out finance is concerned. If they sit on their hands and adopt a "do nothing" approach to the dysfunctionality of the global financial system (other than lavishing taxpayer funds on it, to prop up the whole deeply flawed edifice) , they're pilloried for being in the pockets of bankers.
A wide group of people including centrist and left-wing commentators and some central bank governors will condemn them for ignoring 'moral hazard', sanctioning continued recklessness in the sector and for stoking up another banking and financial crisis that is likely to be even more disastrous than that of October 2008.
However if the politicians decide it's time to take on the banking's behemoths and break up the "too big to fail" monsters of finance because they are a luxury no individual country can afford -– as president Barack Obama chose to do last Thursday -– they will also be pilloried.
In the case of Obama, he is being accused of becoming a danger to the economy, merely because the plans caused a minor wobble on the stock market (just look what the US twitterari have been saying about Obama's decision to pick a fight with the Street)! These short-sighted critics don't seem to care that without such action, another crisis is almost certain. Really there's no pleasing some people.
On this matter I'm firmly with Obama, the former Federal Reserve chairman Paul Volcker, the Bank of England governor Mervyn King and media commentators including Guardian columnist Nils Pratley and Observer columnist Will Hutton. There are, of course, loads of others in this camp, including the academic and writer John Kay, who I think may have coined the terms "utility" and "casino" banking.
In coming months we'll be hearing special pleading from the banking fraternity and their silver-tongued lobbyists. The 'Volcker rule' will also cause some volatility in global stockmarkets as it makes its way through Congress. However, Obama means business and, despite the recent Massachussetts setback, I believe he will eventually get his reforms through Congress.
Speaking last Thursday with Volcker at his side, the president said:
"We have to get this done. If these folks want a fight, it's a fight I'm ready to have …. We have to enact commonsense reforms that will protect American taxpayers and the American economy from future crises. For, while the financial system is far stronger today than it was one year ago, it's still operating under the same rules that led to its near-collapse."
Where American leads, the rest of the world will follow. Other jurisdictions, including the UK, will eventually feel obliged to follow Obama's lead and enact modern day versions of the Glass-Steagall Act (which separated retail banking from investment banking, until it was repealed at the bankers' behest by President Bill Clinton in 1999).
Already the 'Volcker Rule' has met with approval from shadow chancellor George Osborne and Lib Dem finance spokesman Vincent Cable. Osborne said Obama:
"has created a lot of space for the rest of the world to come up with what I think would be a sensible system of international rules."
Cable added:
"The days of excessive risk-taking on the back of taxpayers' money must stop now."
As John Authers put it in the FT:
"Longer term, history suggests that a reform along the lines of the Volcker rule could help shake world markets from their extreme tendency for booms and busts."
The response so far from the UK government has been predictably pathetic. Treasury minister Lord Myners claimed Obama's proposed ban on deposit-taking institutions becoming involved in proprietary trading, hedge funds and private equity addresses a problem that does not exist in the UK. He said:
"President Obama came out with a solution to the idiosyncratic problems that he sees in the American banking system, which is around investment banking in particular."
This, of course, is rubbish. The main reason the British government is pretending the situation is different here boils down to three initials — RBS.
The government is desperate to re-privatise the Edinburgh-based bank as quickly as possible and seems to think this will be more achievable if te bank is allowed to bolster its short-term profitability by engaging in proprietary trading and bullying its corporate borrowers into using its investment banking services (sometimes known in the business as "cross-selling").
Even if, by some inverted miracle, Labour were to remain in office after the next general election (likely to be held in May 2010), there is eventually going to have to be a U-turn on this score, just as there has already been on the notion that RBS and Lloyds Banking Group should not be forced to sell off parts of their oligopolistic branch networks to reduce their market share of UK retail banking. Watch this space.
To read It's time Gordon Brown and Lloyds came clean on HBOS, click here
Short URL: https://www.ianfraser.org/?p=1017
Posted by
Ian Fraser
on Jan 24 2010. Filed under
Blog
. You can follow any responses to this entry through the
RSS 2.0
. You can leave a response or trackback to this entry