Murray hits out at Executive's 'social vision' as metals profits soar
By Ian Fraser
Published: Sunday Herald
Date: November 27th, 2005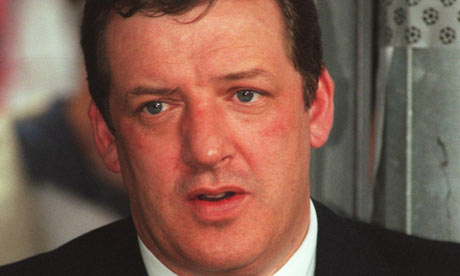 DAVID Murray has attacked the Scottish Executive for failing to understand entrepreneurialism as he unveiled a year of strong financial results at his Murray International Holdings Group.
He accused the executive of being "totally lacking in entrepreneurial expertise". He said: "They might have the best list of social ideas in the world but there's no entrepreneurial flair coming from there.
"We've got to support Scottish indigenous business people. That is not happening. Over 4,000 people go home this week with a wage packet from our group. It's a private company, it's an unusual commodity and it should be applauded."
He said the group would pull out of coal-mining — where it currently has mines in Airdrie and Fife — because of frustration over planning delays. "There are a lot of local and environmental issues. We won't see as much coal getting dug in Scotland in the future."
However, Murray believes MIH is on track to boost turnover to nearly £600 million in the year to January 31, 2006, a 75 per cent boost on the £341.6m figure for the year to January 2005. Murray's pay (excluding £4.1m in dividends from his 82 per cent stake) rose to £1.7m, including £990,000 paid into a money purchase pension scheme.
The group was bolstered in the period by the acquisitions of Apollo Metals, a Midlands-based defence supplier with income of more than £100m, call centre operations bought from Glasgow telecoms group Thus, and a 30 per cent stake in bus manufacturer Alexander Dennis, as well as bringing Rangers FC back into the group.
Murray said profits at MIH in the current year would be very satisfactory. "We have a lot of good people who have come through our template." He cited Donald Wilson, who became MIH's chief executive this year, and Mike McGill, who replaced Wilson as finance director as well as his son, David junior.
In the year to January 2005, MIH made pre-tax profits of £20.1m up 11.6 per cent, despite £10m in losses on coal-mining and in its waste recycling business. But a higher tax charge coupled with a rise in dividends meant lower retained profit for the year.
But MIH has increased its total debt, mainly borrowed from HBOS, to £500m, compared to £164m a year earlier. The borrowings are mainly to fund aggressive investments in UK property, as well as a rights issue at Rangers.
"When you're a private company that's how you fund large ventures; you borrow money from a bank and you pay interest; or you pay a dividend if you're a plc."
MIH's Premier Property Group is increasingly operating at a UK level having opened offices in Leeds and London's west end. Current projects include Franborough House in Glasgow's Bothwell Street; a site at Lime Street in the City of London; Princes Mall in Edinburgh; and EHQ1 business park at South Gyle. Property profits fell to £9.2m, although PPG's fixed assets rose 120 per cent to £354m.
Murray's metals trading business, Murray International Metals, was the star performer in the year to January 2005 and the biggest contributor to group profits. "That business has grown on the back of prices increases, so you're making a better margin, and also we've expanded into other markets.
"We've shifted some of the focus. For a combination of reasons relating to labour costs and where they're currently drilling for oil, fabrication yards have moved to the Middle East and the Far East. We've opened a huge depot in Dubai, and we're building a new $10 million facility in Singapore."
Murray predicts steel prices — which have risen 60 per cent in recent years due to surging demand from China — will "come back [down] because China will become a net exporter of steel. But our products are not general steel, they are high yield quality so we'll be semi-protected from that".
Murray is optimistic about a purchase through MIH's Charlotte Ventures arm of a 30 per cent stake in Alexander Dennis. "They've got good management and a great vision for the business. It's one of the largest manufacturing businesses left in Scotland with over 1000 employees who are actually making something real."
MIH is 82 per cent owned by Murray with Bank of Scotland owning 11 per cent and Noble Grossart 6 per cent.
Short URL: https://www.ianfraser.org/?p=1071
Posted by
Ian Fraser
on Nov 27 2005. Filed under Uncategorised. You can follow any responses to this entry through the
RSS 2.0
. You can leave a response or trackback to this entry