BoS Reading saga suggests something was rotten at heart of HBOS [Nov '08]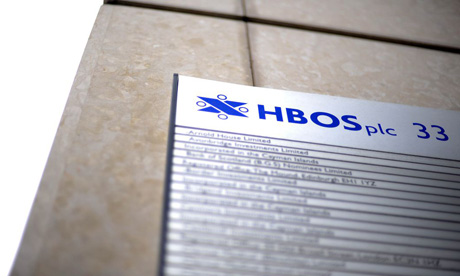 [Editorial Note: This article was written in November 2008 but has never been published before in its entirety. An edited version was published in two parts (part one and part two) by the Glasgow-based Sunday Herald on November 30th, 2008] [with minor revisions and links added October 2nd, 2010.]
Lloyds TSB recently mailed a circular to its shareholders, in which chairman Sir Victor Blank vaunted the merits of takeover of the ailing Scottish lender HBOS. In the 272-page document, mailed in early November, Blank told shareholders the deal stacked up since the Edinburgh-based bank had a "sound corporate banking franchise".
However a string of unsound practices centred around HBOS's Bank of Scotland Corporate division in south-east England between 2002 and 2008 suggest that the Edinburgh-based bank's corporate banking franchise is not quite as "sound" as Blank would have shareholders believe.
The practices not only put many otherwise successful businesses out of business and left their owners in penury and unable to trade. The practices also cost the bank between £500 million and £1 billion in loans that turned sour, with significant portions of the money apparently being siphoned out or misappropriated by directors and employees of a firm of consultants retained by the bank, who also asset-stripped many of the targeted firms before driving them into administration.
The HBOS board, led by the chairman Lord Stevenson of Coddenham, has been aware of the situation for over a year but failed to alert their shareholders. Six Tory MPs contacted by the businesses effected by the scandal are now demanding a meeting with Lord Stevenson or another senior official from the bank in order to establish why so many customers were treated so shabbily. The letter's signatories include the MPs James Paice, Eric Pickles, Nick Herbert, Ed Vaizey, Dr Andrew Morrison and John Greenway.
Lynden Scourfield, who ran the bank's Reading corporate branch until he left the bank in March 2007 appears to have been pivotal to the affair. Business customers from across south-east England were referred to his "mid-market, high-risk" division if they had requested additional funding, were deemed to have run into some sort of financial difficulties or else had broken the terms of their banking covenants.
Scourfield insisted that at least 40 of his business customers use the services of a London-based firm of management consultants, Quayside Corporate Services, a company which until recently was owned by Parkmead Group PLC, of which former Labour energy minister Brian Wilson is a non-executive director.
The businesses were effectively forced into using Quayside's services or appointing a Quayside representative onto their boards of directors. They were told that any failure to do so would have caused the bank to withdraw all their funding — effectively forcing them into liquidation.
Once Quayside had secured a position of authority within the companies concerned, the businesses universally report unusual and unauthorized transactions being made, including new loans from Bank of Scotland Corporate and the payment of significant sums debited from their bank accounts and paid to Quayside without their approval.
In some cases, the businesses' directors were told that unless they handed over "full fiduciary powers" to Quayside all their funding would be withdrawn. In one case, a business has successfully had a judge order that HBOS should repay the money that was deducted in this way, but the bank has as yet failed to so.
Quayside, a so-called "turnaround specialist", is owned and managed by David Mills, also a director of Aim-listed surveillance company Petards Group PLC. Petards has had its shares suspended on the London Stock Exchange since 25 June 2008 because of a failure to issue an annual report and accounts. (note: the shares were restored in December 2008).
Mills is also a director of companies including Mint Partners, Clode Retail Finance, The Sandstone Organisation, The Gordon Press and RDF Corporate Finance, many of which are heavily indebted to the Bank of Scotland. He created Core Enterprise Management, a new holding company for his business ventures, in May 2008.
Corporate Jet Services, where Mills was chairman and which also owned the collapsed Isle of Man-based airline Euromanx, went bankrupt in September 2007 within months of having been issued with further credit by Bank of Scotland Corporate. A report by the administrators, PricewaterhouseCoopers, claims that at the time it went bankrupt, the aviation business owed the bank £113m. Mills and his co-directors were then permitted to buy the business back using off-the-shelf vehicle Quest Aviation Services for an initial consideration of £7.
Two of the Quayside employees who the bank installed as senior advisers and as non-executive directors of customer firms — Michael Bancroft and Tony Cartwright — have a history of fraudulent behaviour. Bancroft and Cartwright, respectively Quayside's 'head of textiles and media' and 'head of finance', were both implicated in a financial scandal in the early 1990s when they embezzled £1.5 million from a publicly listed supplier to Marks & Spencer.
Accounts for the textiles business Ritz Design Group PLC, where Bancroft was chairman and chief executive and Cartwright was finance director, show that the pair resigned after allegedly embezzling more than one million pounds in "unauthorised personal expenditure". Following investigations by the Inland Revenue and auditors Deloitte, Bancroft paid back £1,465,000 and Cartwright up to £64,000.
Peter Jay, a solicitor at Beachcroft and a former director of Ritz, said:
"I was a director of Ritz Design Group PLC and recall that Michael Bancroft was required to repay £1.4m to the company following a Revenue investigation and an investigation by Touche Ross, the company's auditors."
Companies House records show that Mills' and Bancroft's record of turning around companies where they became involved has been far from successful. Among the 12 companies where Bancroft has been a director since 2003, the year he joined QCS, five have been dissolved, two are in liquidation, one is in administration, two are in the process of being struck off, while only one is active. Cartwright's two post-2003 directorships have ended with both companies going bust.
One of the firms where Bancroft was on the board, the textiles group Magenta Studios, lost the bank £21m after having had its overdraft increased by £8m. Those with knowledge of the situation believe it may have been used as a "slush fund" by Mills and Bancroft. Tony Edwards, a former non-executive director of Remnant Media, said:
"Quayside somehow managed to get themselves into a relationship with Lynden Scourfield that enabled them to get themselves appointed to 'assist' companies which may have had some financial problems — although many were trading well and were quite successful. They then ensured those companies became failing companies, and eventually got written off. When the companies were driven into liquidation that covered up the positions that Quayside had created. No-one was around to report what had been going on."
Edwards, a former director of property development at Boots and the Burton Group, became a non-executive director of Remnant Media, after it acquired a portfolio of "adult magazines" from the Daily Express owner Richard Desmond in 2004. However he said he was shocked to discover the modus operandi of Mills and Bancroft.
In November 2005, Edwards said that he and his co-director, the late Aroon Maharajh, were told in no uncertain terms that, unless they allowed Bancroft to step onto Remnant's board, the bank would withdraw all its funding. Edwards gained the impression that Quayside, with the support of Bank of Scotland, was seeking to seize control of the business. "There was effectively a gun to our head, and we were given no choice."
He added:
"The bank had put in Quayside and David Mills and Michael Bancroft to manage the company. However they were not doing a very good and in fact were managing it for their own personal benefit, to enable them to get various bonuses and take their monthly fees — which were extortionate. They were definitely not looking after the interests of shareholders."
Even though Edwards was distinctly underwhelmed by the quality and value of Quayside's services, the media group was having to fork out £140,000 in annual fees to the consultancy. He added:
"The way they operated was to persuade key people in the company to seek additional loans from Bank of Scotland Corporate. These were very quickly approved by the bank and were generally much more than was needed."
Paul and Nikki Turner, who run the Cambridge-based music publishing business Zenith Cafe, also had the misfortune of having their business account transferred to Bank of Scotland's Reading branch in 2003. They said that, soon afterwards, Scourfield issued their business with additional borrowings of £160,000 through the government's Small Firms Loan Guarantee Scheme. Scourfield then used nearly £82,000 of this to pay off Zenith's existing unsecured borrowings, in contravention of the Industrial Development Act 1982.
The move meant Zenith required further funding. However, in April 2004, the Turners were told that the bank would only issue further funding if they agreed to use the services of Quayside. For want of any choice in the matter, they agreed to do so.
"We've spent the past five years sorting out the mess that created," said Paul Turner. He said the arrangement caused £65,000 to be removed from Zenith's bank accounts without authorization, to cover Quayside's "fees".
The Turners issued a formal complaint to several members of HBOS's board in August and September last year. The bank's response was to seek to have them evicted from their home and their place of business. "They must have thought they were above the law," said Turner.
However at a court hearing October 2007, a judge suspended the eviction notice, ruling that the situation was "grossly inequitable" and directing the bank to sort out the matter directly with the Turners. The bank failed to comply, prompting a judge at a second hearing to order the Bank of Scotland to immediately repay Zenith £17,000 — the sum it had removed from their bank account in fees for Quayside subsequent to their formal request that they wished to have no further dealings with the consultancy.
Even though Hugh Macmillan, a managing director at Bank of Scotland Corporate, promised Zenith this amount would be paid at a meeting with the Turners on May 15 2007, no money has been forthcoming and the Turners' are currently unable even to heat their home.
Turner said:
"We realised that Scourfield, Mills and Bancroft were cherry-picking the businesses they thought they'd be able to take control of. Their game plan was to issue these businesses with generous new loans before running them into the ground."

"Quayside was simultaneously 'managing' between 38 and 42 businesses, all of which appear to have been customers of Bank of Scotland Corporate. There aren't enough hours in the day to manage that number of businesses. It averages out at less than four hours a month for each business."
When Joanne Freer, managing director of Sussex-based eco-nappy company Cotton Bottoms, sought a £400,000 loan to fund the expansion of her £1.2m turnover business from Bank of Scotland Corporate in 2003, her account also transferred to Reading and Scourfield became her manager.
At the bank's request, Bancroft then "assessed" her business for the bank over a period of several months and eventually recommended it should advance the loan in December 2003 — but only on condition that a £60,000 "arrangement fee" was paid to Quayside, that Bancroft became a director and that he was paid annual fees of £18,000.
"There followed a catalogue of deceptions and withholding of information by Bancroft," said Freer.
In August 2004, days before she gave birth to her fourth child, Freer says that Bancroft sought to pressure her to "hand over" her shares in the company — or at least give Quayside a controlling stake. He said that if she did so, the bank would lavish further credit on the business. If she did not, he warned the bank would pull the plug on her. "It was a form of extortion. I felt bullied, threatened and intimidated," said Freer.
Bancroft later introduced an accountant who Freer said compiled "fictitious" figures on Cotton Bottoms' financial performance – which she claims were designed to give the impression that the business was in a far worse financial position than was really the case. The figures suggested the business was in need of further borrowings of £200,000. Freer said she believed that she had become "involved with a mob gang."
Four days after Freer gave birth to her fourth child, the bank telephoned her to inform her it was withdrawing all Cotton Bottoms' funding with immediate effect. Its representative Simon Glyn, who had been seconded from accountants Vantis, then had the 'courtesy' to congratulate her on the birth of her son. "That's about as rough as it gets," said Freer. "It was just a nightmare." (note: following the Glyn now works for successor firm FRP Advisory LLP).
Glyn then assigned full fiduciary powers over Cotton Bottoms to Bancroft. Freer said this was despite the fact that Bancroft was "prioritising payments to himself over everybody else" with critical suppliers going unpaid, which jeopardized the business's future. The company was eventually forced into temporary administration in November 2004 and was sold to Newcastle-based Mayborn the following month.
"I would never ever get involved with BoS ever again," said Freer. She said she was "completely traumatized" by an experience which has left her and her four children homeless.
"It was as if they wanted to abuse my business for their own purposes. It was horrifying, having built up so much, to be asset-stripped in this way."
Ironically, Cotton Bottoms was awarded a sustainable business award and Freer received the special leadership award from South East England Development Agency in November 2004 — just as the bank and Quayside were together starting to undermine her business.
Paice, the Tory MP for South-East Cambridgeshire, said:
"We are very concerned as we have a number of constituent cases with a lot of things in common. We agreed that the first step forward is to seek a meeting with the chairman of HBOS to explore it further."
The MPs' letter points to the pattern of events that applies to all the affected businesses – including having their lending increased by Scourfield, being forced to pay substantial sums to Quayside and having further borrowings issued once Quayside took control of their business. The MPs told Stevenson that "for the avoidance of doubt" they will continue to pursue the matter "both publicly in Parliament and with appropriate regulatory authorities."
After a period of "sick leave", Scourfield is understood to have been sacked by the bank in April 2007. Following his departure Andrew Scott, the bank's director of impaired assets, assumed responsibility for Scourfield's 200 odd corporate accounts, and proved to be much less willing to extend further credit to them than was his predecessor.
In what has been described by people familiar with the matter as "an attempt to cover its tracks", HBOS forced at least 40 of the companies with which Mills, Bancroft or Quayside had become involved into bankruptcy.
Responses provided in November 2008 by the from Bank of Scotland Corporate and David Mills can be viewed here and here (foot of each article respectively). At the time Michael Bancroft declined to comment while Tony Cartwright and Lynden Scourfield could not be reached.
For more up-to-date analysis of the BoS Reading scandal see:-
Short URL: https://www.ianfraser.org/?p=1402
Posted by
Ian Fraser
on Jul 18 2010. Filed under
Blog
. You can follow any responses to this entry through the
RSS 2.0
. You can leave a response or trackback to this entry