Bischoff's £8bn misjudgement over Dubai
December 2nd, 2009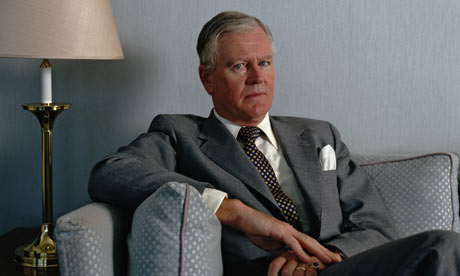 Sir Win Bischoff, the chairman of Lloyds Banking Group and a past chairman of US bank Citigroup, is clearly a man who is easily misled.
In December 2008, soon after Citigroup was bailed out by US taxpayers — from whom it received a $306bn 'undisguised gift' last autumn — Bischoff signed off an $8 billion ($8,000,000,000) loan to Dubai and various Dubai-based entities, even though bling city's economy was already well-known to be teetering on the brink of financial collapse. In a statement at the time, Bischoff (pictured above) said:
"This is in line with our commitment to the U.A.E. market in general, and reflects our positive outlook on Dubai in particular."
For more information on this particular loan, read Andrew Ross Sorkin's Dealbook blog published by the New York Times. One also wonders whether the $8bn facility was some sort of quid pro quo for Abu Dhabi taking a 7.5% equity stake in Citigroup in November 2007.
My question is this: if Bischoff displayed such abysmal judgement then, why should the UK government trust him to sort out the mess that is Lloyds Banking Group now?
Is the Anglo-German ex-Schroders executive going to be any more careful with British taxpayers' money than he was with American taxpayers' money when presiding over Citigroup?
Things I'd like to know more about include:-
Why is Bischoff using the services of a company named Taga Advisory, set up by former Bank of Scotland Corporate senior executive Tom Angus in October 2008, to value all the "assets" on Peter Cummings's £116bn loan book? How objective does Bischoff believe that Mr Angus is going to be when it comes to valuing these assets?
Is Bischoff really going to allow Graeme Shankland, head of special assets at Lloyds Banking Group, to buy out — at firesale prices — the dodgy "private equity" portfolio that Shankland assembled when he ran the integrated finance unit at HBOS  (i.e. is Bischoff going to allow Shankland to profit from his own incompetence at the expense of UK taxpayers and Lloyds' shareholders)?
How worried is Bischoff that, after years of tawdry cover-ups and sickening persecution of the victims, the Bank of Scotland Reading debacle is about to be fully exposed?
Given his largesse to the already bankrupt Dubai last December, nothing would surprise me about this chap.
Short URL: http://www.ianfraser.org/?p=980
Posted by
Ian Fraser
on Dec 2 2009. Filed under
Blog
. You can follow any responses to this entry through the
RSS 2.0
. You can leave a response or trackback to this entry