The Mound's got a new governor but he won't be giving up his day job
By Ian Fraser
Sunday Herald
January 12th, 2003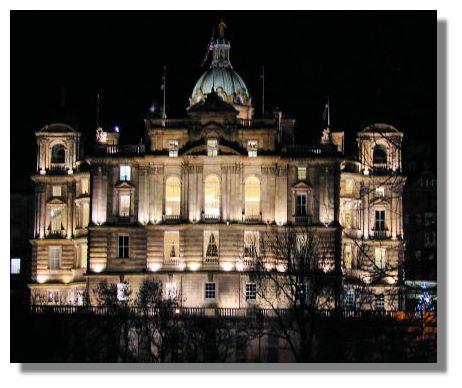 WALKING down the grand staircase of Bank of Scotland's imposing head office on The Mound, George Mitchell – who was initiated as the bank's 26th governor last Monday — pauses to express disappointment that the portraits of former governors are not painted until their retirement.
"It makes it look as if this place has always been run by old men," he said. Standing before the portrait of Sir Bruce Pattullo, he said: "I mean he became treasurer when he was 41 but this painting makes him look a much older man." The tradition also had the unfortunate effect of making it impossible to get a living likeness of one of his predecessors, Sir Alistair Grant, who died of cancer two years ago.
But how relevant does Mitchell feel the role of governor in 21st century Britain is, especially since Bank of Scotland merged in September 2001 with Halifax to create HBOS?
Mitchell, who remains as chief executive of HBOS's Bank of Scotland-branded corporate banking arm, as well as managing director and treasurer of Bank of Scotland, argues the role is a relevant as ever.
However he would clearly prefer it if the title itself — which to some smacks of colonialism — had been replaced with something else at least 100 years ago. He says the retention of the role, held until last week by Sir Peter Burt, speaks volumes about the bank's "continuing commitment to Scotland."
"It's clearly not the full-time job it was before the creation of HBOS," said Mitchell. "That's why I'm keeping my existing responsibilities as well. Yet despite the creation of HBOS, Bank of Scotland is still a separate company. It is still a separately regulated bank answerable to the FSA."
He continues: "Notwithstanding that it's now part of an even larger bank, it's also very much a company at the heart of Scotland and the heart of the Scottish economy and having the position of governor is going to ensure that position continues.
Mitchell, 52, has worked his way through the ranks at Bank of Scotland starting as an office junior in the Haymarket branch of British Linen Bank, then moving to Barclays after leaving school at 16.
Five years later he lived through the sale of British Linen to Bank of Scotland. His subsequent career at the bank has included setting up a Hong Kong office at the age of 29 and running BoS's London-based Treasury operations.
He has been "staggered" by the volume of phone calls, messages and letters he has already received from Scottish business people, many of whom expressed "delight" that the role of governor is being retained.
Alex Pagett, former head of corporate communications at Bank of Scotland, sees it as reassuring that Sir Ron Garrick, already a non-executive director of HBOS, was promoted to deputy chairman of the group with Mitchell getting the governorship.
Pagett said: "One of my worst fears was that, with Peter's demise, we would have seen a much more radical Halifax-isation of the Bank of Scotland than anything we've seen. With these appointments that now looks even less likely."
Mitchell is unfazed by a shift in balance between ex-BoS directors and ex-Halifax directors on the HBOS board resulting from Burt's departure. Effectively the ex-BoS camp has fallen to eight, compared to ten ex-Halifax directors. Mitchell said: "This merger would not have been half as successful as it's proving to be if we were all taking entrenched old Bank of Scotland or old Halifax positions."
He is adamant that there has been no shift of control from Edinburgh to Halifax or London. "HBOS is clearly headquartered here in Edinburgh. [Chief executive] James Crosby spends at least three days a week here. His only HBOS office is next door.
"[Finance director] Mike Ellis has relocated his family to Edinburgh. Colin Matthew, head of business banking, has moved from London to Edinburgh. There's no fudge on that issue at all. This is a living, breathing headquarters of HBOS."
Overall the fancy building on the Mound today houses twice as many people as two years ago, which makes it on the cosy side.
Unusually – and healthily – for a BoS governor, Mitchell is from a fairly humble background. He was educated at Forrester High School, between Corstorphine and Wester Hailes – whose other famous alumni is John Swinney, leader of the Scottish Nationalists. Mitchell is a season ticket holder at Heart of Midlothian, where he makes a point of attending all home games and regularly plays tennis at the Next Generation Club at Newhaven.
He said: "What motivated me to leave school at 16 was the need to earn money."
He seems, however, to have had no burning desire to pursue a career in banking. "The only reason I joined the bank would have been chance it was probably because of the advert I saw in the paper at the time."
He was thrown in at the deep end at British Linen's Haymarket branch. "When you joined the bank as an office junior as I did, it certainly felt like hard work."
"It was unbelievably hierarchical. Even the person who had been in the bank six months longer than you could boss you about. I sometimes find it quite staggering to think that's only 36 years ago."
"We used manual ledgers in which you had to write in proper ink and if you made a mistake you took out the page and started again. It was a tremendous environment in which to learn to get it right first time."
When British Linen was sold by Barclays to BoS five years later, Mitchell saw it as an opportunity. "We were becoming part of something bigger and big meant more opportunities."
The confidence paid off when Mitchell was sent to Hong Kong to set up the BoS branch, which is still making a healthy contribution to group profits.
He does not consider it remotely boring or unimaginative to have spent his entire working life with a single employer.
Mitchell said: "People often ask me how on earth I can have worked 36 years for the same company. But it's been like having 12 different jobs in that time and the fact the bank is large meant that each time you moved to all intents and purposes you could be joining a new company. That's what's made it so stimulating."
One of Mitchell's two mentors within the bank was Gavin Masterton, his immediate predecessor as treasurer and managing director, who bowed out in June 2001.
"Gavin was an old British Linen boy as well. I've known him all my career, and he was always a couple of rungs ahead of me. I would certainly regard him as one of my mentors, as I would Peter [Burt]. When Peter joined in 1974 he was my immediate line manager." So, aged just 52, Mitchell has achieved a hat trick, taking over both his mentors' roles.
One of Bank of Scotland's biggest achievements under Burt and Masterton was to rewrite the banking model, moving away from being a mere supplier of money and to start partnering client firms by taking equity stakes in them. The strategy has played a key part in enabling the bank to gain a leading position in the UK market in areas including MBO and project finance.
Mitchell explains: "We were one of the pioneers in trying to move the banking model away from what I call protecting value to trying to get into a position where we are helping a business create value. We achieved that by giving business clients more than traditional banking products and taking an equity position as well."
"That immediately changes the relationship from banker-customer to partner. It means you are sitting round the table with your partner and saying how do we create value in this company, not saying how do we protect the bank's value."
The bank is currently seeking to build on its dominant position in the UK market for PFI industry by exporting similar skills to both Europe and Australia.
Mitchell said: "We detect tremendous opportunities overseas – as well as continuing opportunities in the UK despite the political commentary you sometimes see." The bank already has five offices in the USA and four in Europe.
The bank's European arm is focusing on acquisition finance, MBOs, private finance initiative and project finance. "Our credentials from the UK and the type of business we do in the UK can be exported reasonably well," he said. "But we are doing it one step at a time."
Mitchell suggests BoS's approach to Paisley-based support services company Semple Cochrane illustrates the bank's commitment to fostering Scottish firms. He said: "A lot of banks, when someone's in difficulty just want to bring in a receiver, take the haircut and move on.
"Now we will try – and not just from self-interest – wherever we can to help companies limp through that difficult period and nurse them back to health and keep as many jobs as we can. And if we're doing all that, we'll say we want some equity in this, because we want to share in the upside. Semple Cochrane was very close to collapse but it will end up being a vibrant company again."
Mitchell says he "wouldn't dare" imply that rival banks, such as Royal Bank of Scotland, take a more ruthless approach to troubled Scottish firms. He acknowledges however that split-capital investment trusts represent a "challenging area" for his bank, but does not admit to being "worried" about the bank's exposure to the sector, where 19 trusts have either suspended their shares or gone into receivership.
"I'm not saying we won't have some provisions to make there but it is not a material figure." But Mitchell describes reports that BoS's exposure to the sector is £2.5 billion to £3bn as "grossly exaggerated".
"Credit quality overall is sound – we said that in our pre-close statement in December and we stand by that. Clearly when the economy struggles like this we have provisioning issues. But there is nothing that we would categorise as worrying."
Mitchell declined to comment on estimates from ING that HBOS's provisions would need to rise to £1.98bn by 2004 in the event of a UK recession.
Under Mitchell's stewardship, corporate banking increased its profit contribution from £376 million in 2000 to £515m in 2001, making it HBOS's fastest-growing unit. Despite the economic slowdown, Mitchell believes such growth can continue.
He said: "One of the key drivers for the merger of Bank of Scotland and Halifax was to give our corporate bank a stronger and bigger balance sheet so that we could do deals which as BoS standalone, we were not big enough to do. That's why we can now do Arcadia that's what's fuelling the growth. If we don't grow in corporate banking we will not deliver the synergies that we have promised and we have assured the city we will deliver those. We recently increased the synergy target."
"My main focus of attention will be to lead the corporate banking unit. That will still take up the bulk of my time."
George Mitchell
Born: April 7 1950 Educated: Forrester High School
1966: Joined British Linen Bank
1974: Diploma in financial studies at Heriot-Watt
1979-87: Managed BoS branches in Hong Kong and New York.
1987: Head of BoS treasury services in London.
1996: General manager of card services, based at Mound.
1999: Head of personal banking. Player in NatWest bid.
2000: Head of corporate banking; joins main board.
2001: Group managing director and Treasurer.
2003: Governor.
Interests: family, Hearts FC, tennis.
Copyright 2003 SMG Sunday Newspapers Ltd.
Short URL: https://www.ianfraser.org/?p=486
Posted by
Ian Fraser
on Jan 12 2003. Filed under
Article Library
. You can follow any responses to this entry through the
RSS 2.0
. You can leave a response or trackback to this entry