The power of positive talk helps strengthen RBS
By Ian Fraser
Sunday Herald
Business comment
March 2nd, 2008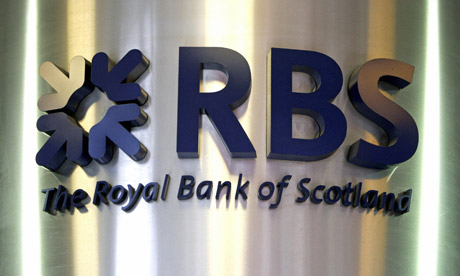 AHEAD OF that annual sporting event popularly referred to as the "bank reporting season", HBOS and Royal Bank of Scotland had seen their share prices buffeted from pillar to post. The bond and equity markets had been on tenterhooks for weeks. The widespread suspicion in the City was that the two banks – which have both seen their share prices go through the floor since the liquidity crisis kicked in last summer – were about to hang out even more dirty linen.
There had been lurid tales circulating that they were about to own up to further black holes in their accounts arising from ownership of dodgy instruments related to subprime mortgages in the US. Investors' fearful mood was exacerbated by suggestions from some analysts and in the media that the banks' precarious financial position was going to necessitate gruesome measures such as dividend cuts and rights issues.
Call me wise after the event, but it seemed to me that such talk verged on the far-fetched. I had a few drinks with Sir Fred Goodwin in St Andrew Square on the evening of "Black Monday", January 21 – a day that by rights ought to have been particularly hair-raising for the former Touche Ross accountant, given that along with the wider market slump, RBS shares had fallen an astonishing 8% to 342p in a single trading day.
Goodwin seemed to be taking this in his stride, indeed he seemed a remarkably – even ostentatiously – chipper and relaxed host despite the likelihood of a further pummelling on the Tuesday. He also was adamant that buying ABN Amro was the right thing to have done and seemed astonishingly upbeat about the future. It is worth pointing out here that RBS paid substantially more for the whole of ABN Amro – £49 billion – than the market capitalisation of the enlarged global banking group (£38bn).
Again last Thursday, the same confident streak came to the fore. Goodwin's choice of words is important here. He said: "Whilst the future seems as difficult as ever to predict, it is clear that we enter 2008 with real momentum behind our organic growth, and with our product range, distribution capabilities and customer franchises materially enhanced. Coupled with our greater presence in the world's largest and fastest growing economies, there is much to be done, but a confidence that it will be to the benefit of our shareholders, our customers and our staff."
I believe that – in PR terms at least – this was a good line to take. Whether or not the current uncertainty about banks is justified, most long-term investors are continuing to shun them like the plague. However, at the very least Goodwin was giving them something to latch on to, a kernel of hope for the future.
I believe it was largely thanks to Goodwin's bullishness that RBS's share price held up better after last week's results announcements than that of its enemy, HBOS. (For the record RBS declared underlying profits of £10.29bn, versus £5.71bn at HBOS).
Goodwin was able to give the impression that RBS is a dynamic brand that may be experiencing some short-term balance sheet issues, but that is nonetheless positioned for impressive growth in the future. The contrast with Andy Hornby, the beleaguered boss of HBOS, could not have been more marked.
Just like Barclays before it, HBOS decided that maximum disclosure about the state of its treasury book would be the best policy when it unveiled flat results last Wednesday. But the move backfired spectacularly for Hornby. Analysts immediately latched on to the fact HBOS owns £7.1bn of "Alt A" assets.
These are described by insiders as the US equivalent of self-certified mortgages. They are not as risky as true sub-prime slime, but could still turn out to be shaky were the US economy to suffer a prolonged downturn. Hornby is also handicapped by the fact his bank is much more closely linked to the slowing UK economy than is RBS.
Compared to the almost ebullient Goodwin, Hornby seemed much more uncertain of the future. He said: "The current turmoil in global financial markets introduces considerable uncertainty into the plans of all financial institutions. We are planning on the assumptions that market conditions will remain uncertain throughout 2008." This was much more downbeat than anything offered by Goodwin.
Coupled with the fact that margins from UK mortgages have been squeezed and corporate lending is likely to slow, it almost came as an invitation to analysts to mark down their profit forecasts for HBOS.
It was largely as a result of Hornby's more downbeat mood that HBOS took a far worse hammering last week. The bank's shares collapsed by 14% between last Tuesday night and Friday's close, ending the week at 603.50p The only time they have been lower in recent history was during the depth of the bear market in early 2003.
At RBS, last Thursday's results at first caused the shares to rise. However, overall the shares fell by 6.1% from last Wednesday night, to end the week at 385p. This is their lowest since the NatWest takeover was completed in early 2000 which, to some investors, must be a screaming buy opportunity.
Whether it reflects reality or not, the overall perception from last week's results is that one bank, RBS, is positioning itself for future growth, whereas the other is battening down the hatches for further market squalls ahead. I know which bank's shares I would favour in such circumstances.
This article was the Sunday Herald's main business comment on March 2nd, 2008
Short URL: https://www.ianfraser.org/?p=467
Posted by
Ian Fraser
on Mar 2 2008. Filed under
Article Library
,
Latest Articles
. You can follow any responses to this entry through the
RSS 2.0
. You can leave a response or trackback to this entry