SNP crony row as boss of failed resort buys it back on cheap
By Ian Fraser and Michael Tait
Published: The Mail on Sunday
Date: February 22nd, 2010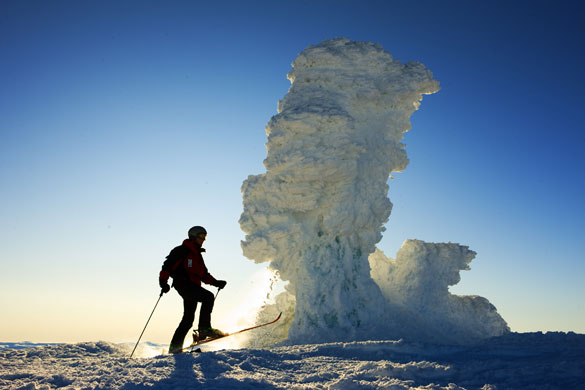 AN SNP donor whose ski resort went bust owing the taxpayer millions of pounds has been allowed to buy it back in a cut-price deal.
The Aviemore complex, which was jointly owned by Nationalist supporter Donald Macdonald, collapsed last summer.
The failure came despite First Minister Alex Salmond and several of his ministers giving their personal backing to an £80 million expansion plan, which sparked claims of 'cronyism'.
When Aviemore Highland Resort (AHR) was forced into administration it owed almost £10 million to HM Revenue & Customs and the quango Highlands & Highlands Enterprise.
The complex was valued at £50 million in 2007. However, The Scottish Mail on Sunday can reveal that a new company created by Mr Macdonald, who previously donated £30,000 to the SNP, has bought the 100-acre resort and all its assets for a bargain basement £6.4 million. The public debts have been written off as part of the deal.
The link between the SNP leadership and Mr Macdonald's deal comes after a series of damaging scandals engulfed the Nationalists.
Mr Salmond and his deputy, Nicola Sturgeon, had to cancel several lunches at Holyrood that they had auctioned to raise cash for the SNP. Days later, Miss Sturgeon became embroiled in another damaging row after she admitted giving a character reference for a convicted fraudster.
The latest revelation will put Mr Salmond's stewardship of his party under further scrutiny. Experts said the sum paid for four hotels, conference and leisure facilities, 18 lodges and a site for housing, was a 'superb deal' for hotelier Mr Macdonald.
Inverness-based economist Tony Mackay, said: 'I'm genuinely amazed the administrators were prepared to sell it for such a low price. There's been a massive loss of public money.'
AHR was put into administration on June 19 last year before being sold on the same day to new firm Macdonald Aviemore Highland Resort Ltd.
This is a wholly-owned subsidiary of Macdonald Hotels – the West Lothian-based firm founded by Donald Macdonald which had a substantial stake in AHR before it was wound up.
AHR's main creditor was the Bank of Scotland -– now 43 per cent owned by the taxpayer -– which has been left with losses of more than £40 million. HIE was owed £7.5 million and HM Revenue and Customs £2.5 million.
Labour finance spokesman Andy Kerr, said: 'These new revelations of the mountains of public debt left behind following the intervention by ministers only raise more questions about in whose interests they were acting and why.
'Given their reluctance in the past to come clean on their exact involvement with Mr Macdonald and his resort following his donation to them on the eve of the last Holyrood elections, it may be that only a full public inquiry will now get to the bottom of this matter.'
Tory MSP Mary Scanlon added: 'These are extraordinary sums of money. We will… consider referring the matter to Audit Scotland.'
The deal to purchase the resort was sanctioned by Lloyds Banking Group, owner of the Bank of Scotland, and administrators PricewaterhouseCoopers (PWC). This took place through a practice known as 'prepackaged administration' – which enables management teams to avoid paying their debts and to recommence trading with the same assets but under a new, debt-free company.
Last year, it emerged Mr Salmond and four ministers had been in contact with Mr Macdonald to discuss problems with his planning application for the resort when the scheme appeared to be on the brink of collapse
Gordon Fraser, chairman of Macdonald Aviemore Highland Resort, said the price paid reflected the fact the resort is only half built.
An Executive source said: 'It is ludicrous that Andy Kerr is seeking to blame Scottish ministers for any enterprise which encounters financial difficulties during Labour's recession.'
Bruce Cartwright, of PWC, said: 'The creditors approved the sale (of £6.4 million) in the formal proposals to creditors issued in August 2009.'
This article was published on p15 of The Mail on Sunday (Scottish edition) on February 21st, 2010.
Short URL: https://www.ianfraser.org/?p=1034
Posted by
Ian Fraser
on Feb 21 2010. Filed under
Article Library
,
Investigations
,
Latest Articles
. You can follow any responses to this entry through the
RSS 2.0
. You can leave a response or trackback to this entry