Persistence pays off
By Ian Fraser
Scottish Business Insider
Deals & Dealmakers Yearbook 2008
August 2008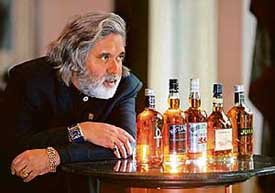 It took him two years to buy Whyte & Mackay but Vijay Mallya was determined to add the distiller to his stable
VIJAY Mallya's £595 million acquisition of the Glasgow-based distiller Whyte & Mackay, owner of brands including Whyte & Mackay blended Scotch whisky, Dalmore and Isle of Jura single malt, Vladivar vodka and Glayva liqueur was remarkable in a number of ways.
First, the deal is symptomatic of a global shift in the balance of economic power. Buoyed by the subcontinent's turbo-charged recent economic growth, more and more Indian companies have in recent months been splashing out on buying companies in the UK and other parts of the developed world. Other deals that fit into the category include Tata Group's acquisition of the luxury car brands Jaguar and Land Rover from Ford and the Times of India group's recent £53m acquisition of Virgin Radio from SMG.
Secondly, the takeover was extremely protracted. Mallya, India's most charismatic billionaire, first eyed a takeover of Whyte & Mackay's subsidiary Invergordon Distillers, back in 2005. After talks broke down over price, his United Spirits came back with a speculative bid for the whole of Whyte & Mackay in May 2006.
That bid, believed to have valued the Glasgow-based group at £360m, was rejected as too low by Whyte & Mackay's owners Vivien Imerman and Robert Tchenguiz. It then took a further 12 months of jockeying over price before Mallya, dubbed "The Branson of Bangalore", could wrap up a deal.
The time lag partly arose because Tchenguiz and Imerman, who had acquired the Kyndal business following a £208m MBO from US-based Fortune brands, were not sure they wanted to sell. It was also because the price of whisky stocks rose dramatically in 2005- 2006.
"Given Whyte & Mackay's huge stocks it was like trying to hit a moving target," said Mallya last May. "We had to figure out when to freeze the price. That took another few months. We then did due diligence. And then the whisky price rose. Again."
An informal agreement was reached under which Imerman and Tchenguiz promised to not carry out an auction for Whyte & Mackay unless Mallya's bid lapsed. "Ravi Nedungadi, my CFO, and I conducted the price negotiations ourselves," says Mallya.
The deal also speaks volumes about the current strength of the Scotch whisky industry. Rapid sales growth in emerging markets such as China and, indeed, India, has put the entire industry on a growth footing and, as Mallya discovered, stocks of matured whisky are commanding far higher prices than was possible three or five years ago.
Another reason Whyte & Mackay deal is distinctive is because US bank Citigroup played a role on both sides of the transaction. The bank acted as corporate finance advisers to Whyte & Mackay and as a major lender to United Spirits.
Observers say there is scope for conflicts of interest when investment banks have a foot in both camps. "I think it's unusual and the potential for conflict is extremely high," Richard Bove, an analyst with the independent research firm Punk, Ziegel told the New York Times. "How does the seller know he's getting the best price possible, and how does the buyer know he's getting the best financing deal possible?"
However Citigroup spokesman Lindsey Deans has said: "On this deal Citi was in the fortunate position to be able to help both sides, acting as adviser to the seller through our London-based M&A team and providing some of the financing to the bidder through Citibank in India. There are always appropriate safeguards in place to ensure client information on both sides is kept confidential."
Aside for a $310m loan from Citibank United Spirits – whose other advisers included PricewaterhouseCoopers and Shepherd & Wedderburn – also borrowed $325m from India's ICICI Bank and raised cash from the sale of United Spirits' treasury stocks. Brodies advised ICICI bank.
Marion McInnes of Brodies says: "Working with an international team of lawyers from Allen & Overy, Brodies advised ICICI with its $325m debt facility to new owner United Spirits. The acquisition will allow United Spirits to meet the increasing demands for whisky in India and progress their recent forays into China and Russia. The deal is one of ICICI's largest European deals to date."
United Spirits sells about 66m cases of molasses-based whisky in India, but the Whyte & Mackay deal has lifted its total sales to 75 million cases a year. Mallya claims this means it overtaken Pernod Ricard as the world's second largest drinks company.
With 100% of Whyte & Mackay's equity under his belt, Mallya has said he will consider floating the group on the London stock exchange. He said: "In Whyte & MacKay we not only have a strong place in the Scotch whisky business, grain and more distillation, but of course a great heritage of brands."
Imerman says he chose to sell the company because it would have been "very difficult" for him to take it to the next level. He said: "Vijay will bring the international distribution, especially in the emerging markets where Scotch has exponential growth, and that is vital for this business."

This article was published in Scottish Business Insider's Deals & Dealmakers Yearbook 2008, published in August 2008. Copyright Ian Fraser 2008
Short URL: https://www.ianfraser.org/?p=603
Posted by
Ian Fraser
on Aug 4 2008. Filed under
Article Library
,
Latest Articles
. You can follow any responses to this entry through the
RSS 2.0
. You can leave a response or trackback to this entry