Mervyn King: No-one can afford "too big to fail" banks
December 3rd, 2009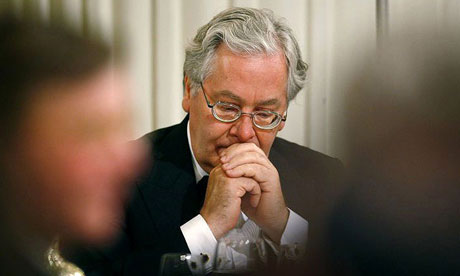 Bank of England governor Mervyn King has made clear that no-one can afford banks that are "too big to fail."
Giving evidence to the House of Lords economic affairs committee last month, King pointed out that building a credible regulatory regime while such dinosaurs roam the financial jungle is an impossible task.
By "too big to fail", King means banks and other institutions that are so large, or so pivotal to the financial system, that no government would dare allow them to go bust in the event of them getting into trouble. It's moral hazard revisited.
King pointed out that having any financial institition in the category is "impossible to reconcile with the market discipline of a free market economy." This must surely mean that he believes the likes of RBS, HSBC and Barclays should be broken up.
King said that the trouble with such institutions is that neither management nor large depositors have any real incentive to check the riskiness of its activities — since, in the event of things going horribly wrong, they can be confident the government will step in and bail them out. King said: "The rule of a market economy is that if you make a mistake and your company fails, it fails. It does not get bailed out by government … That market discipline applies to everyone apparently—except banks. That cannot possibly be right.
"It will distort the incentives for the monitoring of risks by banks of creditors who fund those banks. If they think they are not lending to the bank but lending to the government then of course they will not bother to monitor the risk which banks are taking."
For a longer piece on King's views on "too big to fail" from QFINANCE, click here
Short URL: https://www.ianfraser.org/?p=985
Posted by
Ian Fraser
on Dec 3 2009. Filed under
Blog
. You can follow any responses to this entry through the
RSS 2.0
. You can leave a response or trackback to this entry