Goldman Sachs' stance marks Gordon out as truly the man with no shame
By Ian Fraser
Published: Sunday Herald
Date: April 25th, 2010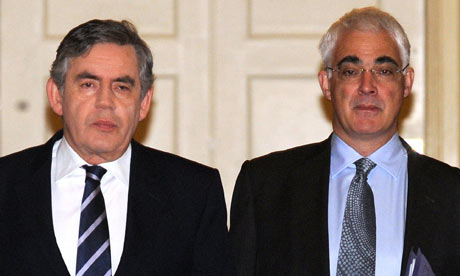 You may remember the classic scene in Casablanca in which the police captain Renault raids Rick's Cafe claiming to be "shocked, shocked to find that gambling is going on in here". While he expresses his outrage and shuts down the casino, a croupier slips him a wad muttering "your winnings, Sir."
I couldn't get this scene out of my mind when Gordon Brown last week claimed to be affronted by the "moral bankruptcy" of US investment bank Goldman Sachs. Goldman, once seen as the world's pre-eminent investment bank, is in reputational meltdown following the decision of the US Securities and Exchange Commission to prosecute it for defrauding investors.
The charges are that it defrauded investors in its Abacus 2007 AC-1 collateralized debt obligation –- a hideously opaque bundle of toxic debt that was, allegedly, "designed to fail", and in which Royal Bank of Scotland lost its entire $840m stake.
At a campaign press conference last Sunday, Brown said: "I am shocked at this moral bankruptcy. This is probably one of the worst cases that we have seen. Hundreds of millions of pounds have been traded here and it looks as if people were misled about what happened. I want the Financial Services Authority to investigate it immediately."
The hypocrisy of these remarks is breathtaking, even by the standards of this errant son of the manse. Brown, his government and the FSA have sat idly by while certain British banks have defrauded their own customers in ways not dissimilar to those alleged against Goldman Sachs.
As suggested by the FSA fining two former Northern Rock executives, there are plenty of home-grown allegations of unsavoury pre-crisis banking misdemeanours for the regulator to investigate, and HBOS, now Lloyds-owned, and RBS would be good places to unleash the bloodhounds.
Let me spell out the extent of the PM's Renault-esque hypocrisy.
It was Brown as chancellor who created near-regulatory vacuum in the UK financial sector when he removed supervision from the Bank of England in 1997.
He then ignored most of the recommendations of the 2000 Cruickshank report into the state of British banking, loosening rather than tightening regulatory standards, and appointed HBOS chief executive Sir James Crosby to the board of the FSA. This extraordinary, cronyist appointment fatally compromised the regulator's ability to regulate the UK's most reckless bank.
Brown and Blair became patsies to the bankers largely because they developed a fondness for the tax revenues, the well-paid jobs and the glamour of having the world's leading financial centre on their doorstep. These were Brown's "winnings". They also wrongly believed that London's best chance of remaining one of the world's leading financial centres was to allow the financial sector to write its own rules.
In this deregulated jungle, paper tigers like Sir Fred Goodwin were briefly able to roam abroad and deceptive accounting practices were tolerated or ignored. In a speech to the CBI conference in November 2005, Brown said that he did not just want "light touch" regulation. He wanted "limited touch" regulation.
Chancellor Brown, the Treasury and the FSA ignored a string of red flags –- including one raised by the legendary hedge fund investor Jim Chanos at the G7 summit in Washington DC in April 2007. Chanos and another hedge fund manger told the G7 finance ministers that the world's banking system was already in such parlous state that a systemic collapse was inevitable. But Brown's ears were stuffed with City cash.
Brown and the FSA were also repeatedly told that something was not quite right at HBOS -– particularly the way in which the bank was pricing its loans, the way it was securitizing and collateralizing its corporate loan book and the way in which it was abusing off-balance-sheet vehicles to massage down its bad debt position. Repeated warnings about this catastrophic behaviour bounced off the FSA. It just didn't want to know and the chancellor remained entranced.
He persisted with his "light touch, limited touch" approach until it was too late. By the summer of 2008 RBS, HBOS and a few smaller banks had done what any hubristic and overly aggressive bank will do when it is inadequately supervised –- drive themselves to the brink of collapse.
This was the time to learn some lessons from the fiasco, right? Er no. Prime Minister Gordon Brown and chancellor Alistair Darling instead ploughed in some £1.3 trillion of UK taxpayers' money into the busted banks but with very few conditions attached. Vague requirements to lend a certain amount to UK SMEs have been ignored with impunity.
Brown didn't seem to have any interest in restructuring or imposing behavioural change on the failed banks. All he wants to do is to ensure they can rebuild their balance sheets and return to the private sector as quickly as possible. And the only way that can be achieved is if they behave in ways that are antipathetic to economic recovery. Nor has Brown promoted any justice for the customers who were defrauded or who had their assets expropriated by out-of-control banks such as HBOS during the boom.
Despite all the protestations about caring for small and medium-sized enterprises, Brown really doesn't give a damn where the banks reinvest the virtually limitless supply of chips he has handed them through the flawed policy of quantitative easing and the current steeper yield curve. Most is just going towards propping up the stock market, the inflation of the next asset price bubble and the payment of ill-deserved bonuses.
Obviously the banks themselves must bear responsibility for their own actions. But the main reason they failed in October 2008 was because their highly questionable and reckless practices were tolerated — indeed positively encouraged — by Brown, his government and the FSA for years.
If anyone is morally bankrupt here, it's Brown.
An edited version of this article was the Main Business Comment in the Sunday Herald on April 25th, 2010
Short URL: https://www.ianfraser.org/?p=1068
Posted by
Ian Fraser
on Apr 25 2010. Filed under
Article Library
,
Latest Articles
. You can follow any responses to this entry through the
RSS 2.0
. You can leave a response or trackback to this entry