Fred in hiding as 'megaphone' Hattenstone fails to secure apology
February 6th, 2009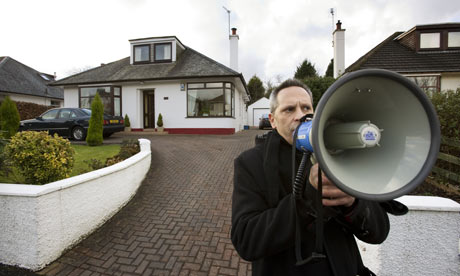 There's a wry piece in last Saturday's Guardian in which the newspaper's interviewer, Simon Hattenstone, visits Scotland in the hope of soliciting an apology from Sir Fred Goodwin, the disgraced former chief executive of Royal Bank of Scotland.
Despite showing impressive ingenuity in his quest, Hattenstone fails. But there are some nice touches in the piece, including when Hattenstone is effectively marched off RBS's Gogarburn campus, near Edinburgh airport by RBS bank press officers, Neil Moorhouse and Linda Harper.
Here's an excerpt, in which Hattenstone describes a visit to the exterior of the suburban Glasgow home of Fred the Shred's parents-in-laws, Mr and Mrs Norman McLean, where Goodwin is believed to be in hiding.
I feel slightly guilty as I get out my loudhailer, but I've come this far, and even if there is the tiniest chance he's there I must make my case. Perhaps Norman will pass my questions on to Goodwin.

"Sir Fred," I say. I'm not sure they can hear inside. Whoever is inside.

"Sir Fred, I know your father-in-law has just said you're not here, but if you have just popped in for a visit, I have a series of questions to ask you. One: would you like to apologise to the public for the state of the RBS? Two: would you like to thank the public for bailing you out? Three: would you like to give back your bonuses?

Nothing. It's cold and windy.

"Sir Fred, it's cold and windy and if you do happen to be there we wouldn't say no to a cup of tea. And perhaps you might just apologise to the British public at the same time?"

Diddly squat. We make to leave, and as I head for the car, I see Norman's next-door neighbour sticking up an approving thumb. I run up his drive. He invites us in for a cuppa.
The Guardian article can be read in full here.
Short URL: https://www.ianfraser.org/?p=757
Posted by
Ian Fraser
on Feb 6 2009. Filed under
Blog
. You can follow any responses to this entry through the
RSS 2.0
. You can leave a response or trackback to this entry