Key Murray lieutenant makes exit from debt-laden empire
By Ian Fraser and Stephen Vass
Published: The Herald
Date: December 3rd, 2009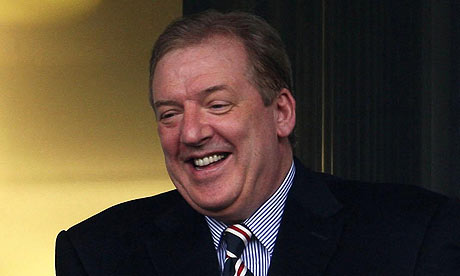 Sir David Murray, chairman of debt-laden metals-to-property conglomerate Murray International Holdings (MIH), has parted company with one of his most trusted lieutenants.
Ian Tudhope, managing director of MIH's largest operating subsidiary, Edinburgh-based Premier Property Group (PPG), has resigned after 23 years with the business. He was last seen at the company's Charlotte Square headquarters on Monday.
In a letter that caused some surprise in the Scottish property sector, Tudhope wrote: "… the last two years have brought many challenges and quite a few disappointments."
However Tudhope stressed in the letter that the recent disappointments at PPG – which has suffered from the 43% slump in commercial property valuations since June 2007 – had not undermined the company's successes. "We can still point with pride to a list of achievements over a much longer period," he wrote.
Tudhope, 52, a former lawyer with Bird Semple, was described by senior property sources as an 'urbane Aberdonian'. One said: "This came as a shock to all of us. Ian is a very good operator who is hugely respected in the market."
Sources close to Sir David Murray last night played down speculation that Tudhope left because of a clash with Donald Muir, the company-doctor and turnaround specialist who joined PPG's board on October 12 and joined the board of Rangers FC four days later.
Muir advised on the recent turnarounds of Northern Rock, two south of England NHS trusts and the Department for Work and Pensions and is a member of the PricewaterhouseCoopers turnaround panel, an elite cadre of "independent turnaround professionals".
Andrew Glasgow, a director at PPG, added that there was "no bust-up" between Tudhope and Murray.
"Whatever happened was by agreement," he said.
He said that PPG is now being run by the remaining members of the board, which also include himself, Lynne Higgins and Colin Mitchell, and that Muir had not assumed day-to-day charge of the company.
"We are just doing the same as we always did," he said.
Spokespeople for both Lloyds – to which Murray International Holdings owes £759 million – and MIH insisted that Muir was not appointed by Lloyds Banking Group but by the boards of Rangers and PPG.
Muir is not currently on the board of Sir David's holding company MIH. However, it is understood that the bank was not averse to the introduction of a fresh pair of eyes at board level.
A spokesman for Murray said PPG appointed Muir to its board because he would bring a fresh perspective to the group. One source close to PPG said that the company is moving in a different direction, with a greater emphasis on deleveraging and asset sales. He added that it is fair to say that the timing of Muir's entrance and Tudhope's exit was more than a coincidence.
In an interview published earlier this month, Muir said that in turnaround situations, "…there are always casualties. I liken my job to walking into a train crash. I have five minutes to assess who's still alive and can help me work on the others, to revive and motivate them, and then take the company forward."
Muir is a former chief executive of telecoms group Telspec and a former chief financial officer at Global Crossing and Cable & Wireless Global. In an interview published last weekend Sir David said Muir had been brought in to look at overheads, costs "and leave no stone unturned".
PPG, essentially a property developer and speculator, churned its way through £650m of commercial property across the UK in the two years to July 2006. It is in the throes of selling an office building at 141 Bothwell Street in Glasgow for £69m, according to property sources. The building is understood to have been purchased by Aberdeen Asset Managers on behalf of the Strathclyde Pension Fund. Strathclyde was attracted by a yield of 5.8% on the 80,000sqft building, whose tenants already include HSBC and law firm McGrigors.
PPG's other properties include the 110,000sqft EHQ building at South Gyle, which remains unlet despite two years on the market, and the Princes Mall in Edinburgh.
Projects south of the border include London's Plumtree Court, currently occupied by accountants PricewaterhouseCoopers.
PPG's profit halved to £5.5m in 2008 on net assets shown at £63.5m.
A spokesman for MIH said: "We would like to thank Ian for outstanding service, loyalty and dedication over 23 years and for his many achievements as managing director in building, with his PPG colleagues, such a successful and substantial property company.
"I know that all of his colleagues will join me in wishing him well going forward."
To read this article on The Herald's website, click here
Short URL: https://www.ianfraser.org/?p=984
Posted by
Ian Fraser
on Dec 3 2009. Filed under
Article Library
,
Latest Articles
. You can follow any responses to this entry through the
RSS 2.0
. You can leave a response or trackback to this entry