Daniels claims HBOS disclosures were "thorough"
January 12th, 2010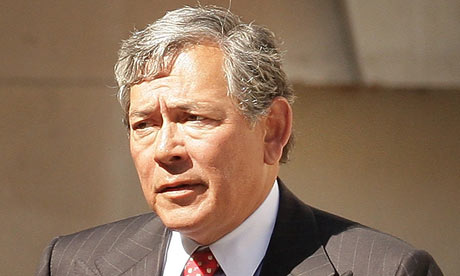 Eric Daniels believes Lloyds Banking Group's disclosures relating to its disastrous HBOS deal were "thorough" and "accurate". Oh yeah? So why didn't they mention of the £25bn emergency government loan without which HBOS would have gone bust?

Watching the Treasury Select Committee hearing this morning, I was struck by the contrasting performances of Stephen Hester and Eric Daniels, respectively chief executives of Royal Bank of Scotland and Lloyds Banking Group.
To a greater or lesser extent, the RBS and Lloyds bosses seemed complacent, smug and eager to sweep questions about fat cat pay under the carpet. After all, they said, they have remuneration committees and "independent" remuneration consultants in place to ensure people in their banks don't get paid too much and they have to remain "competitive", don't they?
What struck me most were the differences between Hester and Daniels (I won't go into the performance of Northern Rock boss Geoff Hoffman here). I don't know if it's just me, but the RBS boss came over as man of genuine integrity — he calmly and patiently outlined what he sees as a public duty to return the bank to the private sector within three to five years, and to get news about the bank off the front pages and back into the business pages.
As Nils Pratley has suggested in the Guardian it may be that, since Hester is "generally regarded as a reasonable man attempting to manage a horrendously complicated situation", the MPs had chosen to give him an easier ride.
By contrast, the Lloyds Banking Group chief executive Eric Daniels seemed like a man struggling to come to terms with the truth. Although seemingly polished, the American was totally unconvincing for much of the session — and at times came over as positively slippery. He also seemed to be suffering from a bizarre case of memory loss throughout.
His favourite phrases were "thank you for the question" (why?) and "I'll have to get back to you about that." Was this down to media / legal training one wondered?
There were at least six occasions where Daniels slipped up badly;-
A) Asked by Jim Cousins, MP whether the Treasury had been open and honest on September 16, 2008, the day his bank commenced its rescue takeover of HBOS, Daniels did not give a straight answer. Cousins repeatedly highlighted a recent National Audit Office report which revealed that the Treasury intended to "close HBOS to new business" that day unless a buyer was found. After much prevarication and visible squirming, Daniels eventually said: "I was certainly in the middle of the negotiations and the Treasury was highly concerned about the future of HBOS, but I don't have a specific recollection of that."
B) When asked whether, at the time of the HBOS deal in September 2008, the government and Treasury had "hoodwinked" Lloyds or whether Lloyds had hoodwinked its own shareholders (about the true state of HBOS), Daniels said: "I don't believe anyone was hoodwinked. What we believe is that this is a very good deal for our shareholders including the taxpayer. We believe this was good for not only Lloyds but also for the wider banking system. If HBOS had gone down, it would have had much more serious consequences."
C) Astonishingly, Daniels does not see anything wrong with keeping his own shareholders in the dark about the £25.4bn secret Bank of England loan to HBOS (without which the Edinburgh-based would have gone bust) when they were asked to vote on whether the deal should proceed.  He insisted the disclosure was "thorough" and "accurate", which drew looks of astonishment from members of the Treasury Select Committee.
D) Daniels was disingenuous on the number of bust companies that Lloyds Banking Group now owns. Hester earlier admitted that RBS owns more than 1,000 companies (which have presumably come into the bank's ownership as a result of administrations, broken covenants, debt-for-equity swaps etc) and my guess is that LBG now owns even more. However Daniels didn't seem to know much about this and would have us believe that LBG only owns a handful of companies.
E) He doesn't have a clue how many people have been fired by the merged bank so far — he claimed it was 6,000, which is surprising given his own spin doctors say it is 11,000 and the trade unions say it is 15,000. He also denied jobs were being transferred to India.
F) Despite repeatedly being given the opportunity, he refused to acknowledge that he and his boardroom colleagues are being rewarded on the basis of sacking Lloyds and HBOS staff. This seems odd given that their bonuses are dependent on whether they achieve the £1.5bn in cost savings that have been tageted by 2011 — a milestone analysts say will be impossible to achieve unless 30,000 jobs are lost.
To watch the three hour broadcast from BBC Democracy Live click here
To read key quotes from the "grilling" from Reuters, click here

For a detailed dissection of Eric Daniels' dishonesty by Andrew Withers of the UK Libertarian Party, click here

Short URL: https://www.ianfraser.org/?p=1005
Posted by
Ian Fraser
on Jan 12 2010. Filed under
Blog
. You can follow any responses to this entry through the
RSS 2.0
. You can leave a response or trackback to this entry